(Note: This post may contain affiliate links. Read more about them here.)
Soft, fluffy, flaky, with just a hint of crunch on the edges.
That, my friends, is a perfect biscuit.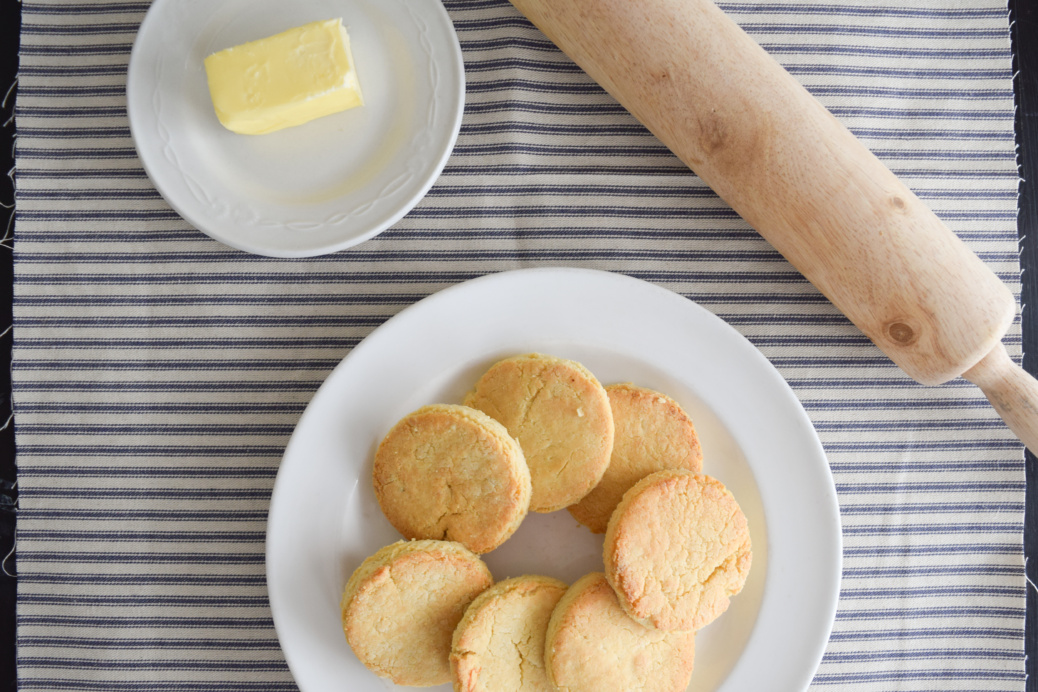 And making a grain-free biscuit that meet all of those criteria is a ridiculous attempt and only those who are crazy should try.
I guess you could say that I am crazy.
I was dying for sausage egg biscuits this week, so I thought, why the heck not? Let's make some grain-free butter biscuits.
Most of the "paleo" or grain-free recipes out there have coconut oil as the fat in the recipe, but I just don't love the taste of coconut oil. So I substituted butter in here and they turned out perfect. Most of my recipes are dairy-free, but since butter doesn't have the same effect on me that other dairy products do, I decided to make an exception this once.
Because BISCUITS.
Before I lose you Paleos, I made these same biscuits with olive oil and they didn't get flaky, but they still tasted amazing, so hop on over to that recipe and make it instead.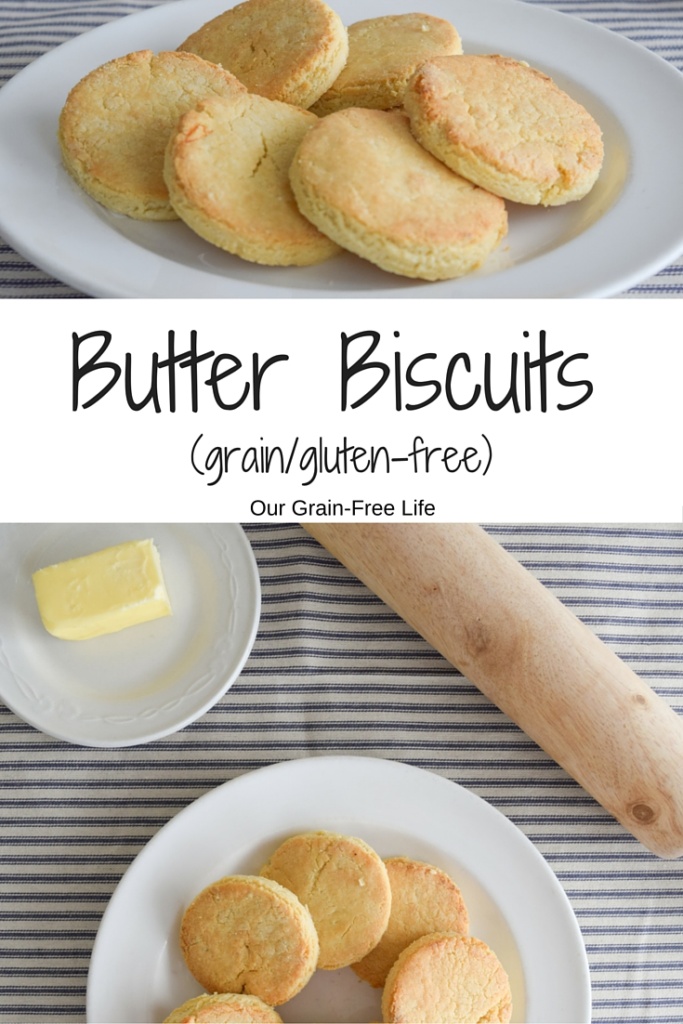 Paleo Butter Biscuits
Ingredients
Equipment
Flour Sifter
Parchment Paper
Rolling Pin
Biscuit Cutter/Cookie Cutter/Round Drinking Glass
Prep time takes 20-30 minutes and bake time takes 15-6 minutes for a total of 45, serves four people.
Directions
Preheat oven to 350 degrees Fahrenheit.
Measure and sift flour and starch into a medium-sized mixing bowl.
Add baking powder and salt and mix well.
Cut in butter and combine with hands until evenly distributed.
Whisk eggs in a small bowl, then add to dry mixture, mixing well until combined.
Using your hands, roll dough into a ball.
Chill ball of dough in fridge for 10-15 minutes.
Line baking stone or cookie sheet with parchment paper and set aside.
Remove dough from fridge and using rolling pin, roll between two pieces of parchment paper until about 1/4 to 1/2 inch thick.
Using biscuit cutter/cookie cutter/drinking glass, press into dough to cut a perfect biscuit and place on pre-lined baking stone/cookie sheet.
Once you have cut out all biscuits, place biscuits into the fridge for an additional 10-15 minutes to chill.
After 15 minutes, remove biscuits from fridge and place directly into the oven.
Bake for 15-16 minutes or until golden. (I broil mine for about 1 minute to get the golden tops!)
Enjoy, enjoy, enjoy!!!
Butter Biscuits (that melt in your mouth)
Ingredients
2½ cups Almond Flour
¾ cup Tapioca Flour or Arrowroot
1 tsp Paleo Baking Powder
1 tsp Salt
⅓ cup Butter
2 Eggs
Flour Sifter
Parchment Paper
Rolling Pin
Biscuit Cutter/Cookie Cutter/Round Drinking Glass
Instructions
Preheat oven to 350 degrees Fahrenheit.
Measure and sift flour and starch into a medium-sized mixing bowl.
Add baking powder and salt and mix well.
Cut in butter and combine with hands until evenly distributed.
Whisk eggs in a small bowl, then add to dry mixture, mixing well until combined.
Using your hands, roll dough into a ball.
Chill ball of dough in fridge for 10-15 minutes.
Line baking stone or cookie sheet with parchment paper and set aside.
Remove dough from fridge and using rolling pin, roll between two pieces of parchment paper until about ¼ to ½ inch thick.
Using biscuit cutter/cookie cutter/drinking glass, press into dough to cut a perfect biscuit and place on pre-lined baking stone/cookie sheet.
Once you have cut out all biscuits, place biscuits into the fridge for an additional 10-15 minutes to chill.
After 15 minutes, remove biscuits from fridge and place directly into the oven.
Bake for 15-16 minutes or until golden. (I broil mine for about 1 minute to get the golden tops!)