(Note: This post may contain affiliate links. Read more about them here.)
Biscuits and gravy conjures up memories of the holidays for me. Every Christmas, my grandparents would host a Christmas breakfast at their home and cook sausage and gravy, served with a tall glass of fresh squeezed Arizona orange juice. The weather was pleasant, and the chance to get together, especially as I grew older, was precious.
I'm mourning right now because my grandfather just passed away in the fall, and I could usually find him in the center of the kitchen on these Christmas mornings squeezing more orange juice or flipping sausage patties on the griddle. I remember what a treat it was to use the orange juicer after he sliced opened several dozen juicy oranges and set them next to me. And he made the most amazing bread in his bread maker! It was light and easy to slice.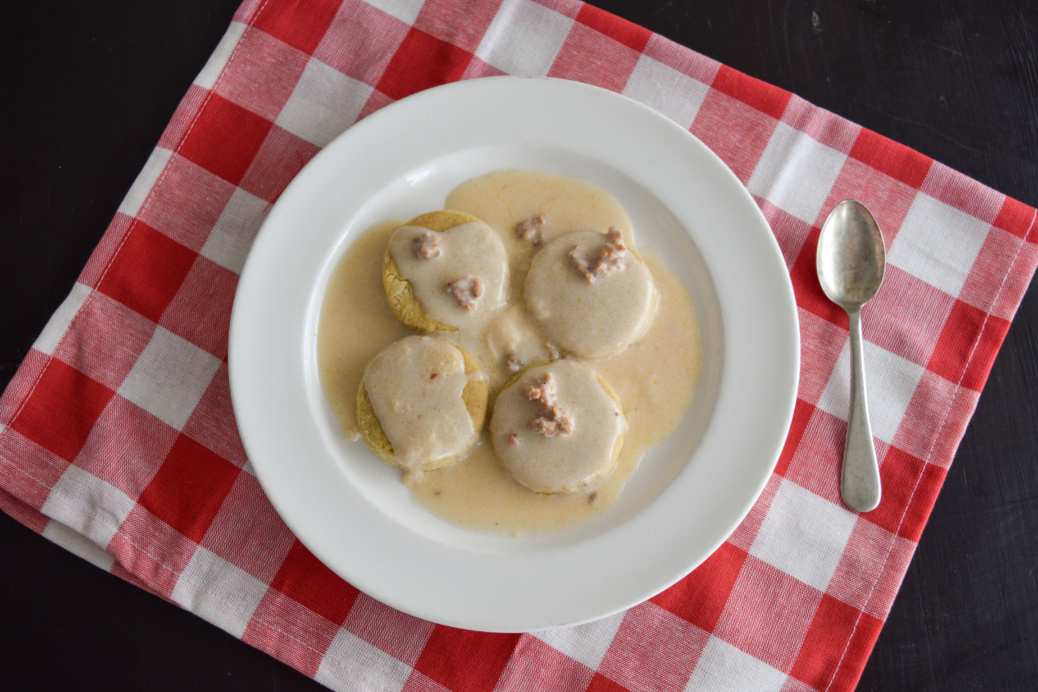 As soon as I let go of grain and dairy in my diet, I missed my favorite comfort foods: the ones the evoked emotion and memory like biscuits and gravy. And I tried for years to recreate them, but my Paleo cooking skills needed some refining. Two Christmases ago I finally figured out the three secrets to perfect Paleo biscuits and sausage gravy:
Almond flour
Olive oil
Almond milk
These are the secrets to making perfect Paleo biscuits and sausage gravy! Hop on over to my recipe for Olive Oil Biscuits here, or if you can tolerate butter, try my Butter Biscuits here.
I usually use a mild to spicy sausage in my gravy so there is another layer of taste. Plain sausage can be very bland, as can almond milk. Just make sure you read the packaged information if you need to avoid an specific spices.
I also make my own almond milk! This recipe may need to be adjusted if you use store bought almond milk, which can be thicker due to the gumming agents.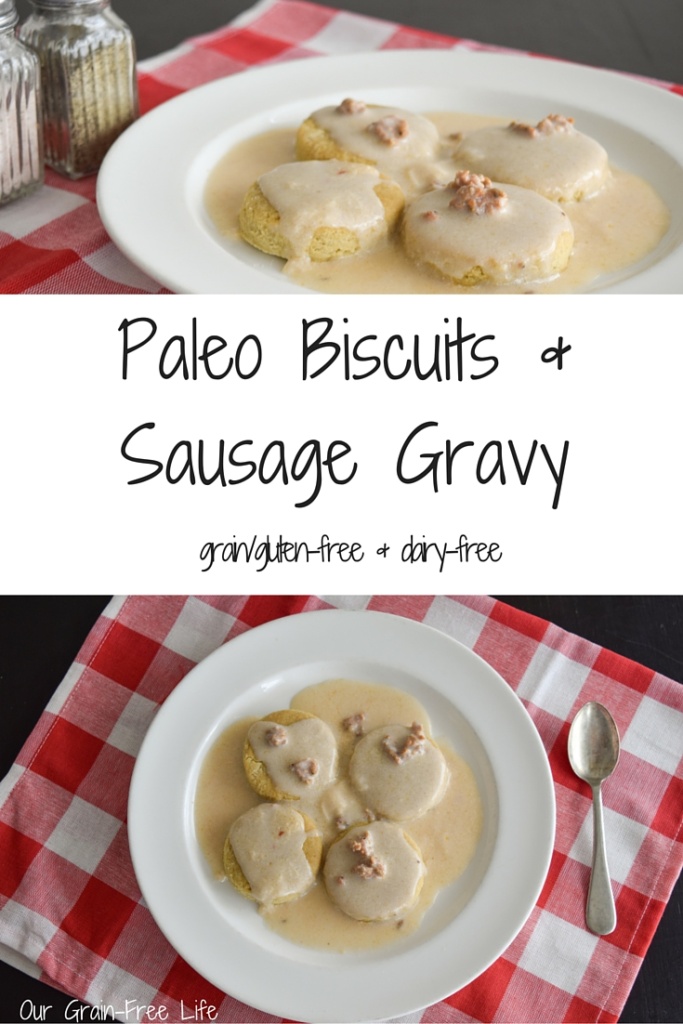 Paleo Biscuits and Sausage Gravy
Ingredients
2 lbs of uncooked mild or spicy sausage
6 + 1/4 cups of fresh almond milk
2 tbs of arrowroot flour
salt and pepper to taste
Directions
Place a deep cooking skillet on the stove and turn to medium high heat.
Add raw sausage to skillet and, using a spatula, "cut" sausage into smaller pieces as it cooks.
Cook until brown, being careful not to burn. Lower heat to medium low and remove sausage from pan with spatula or a slotted spoon. Leave grease in pan for gravy.
After sausage is removed, add all almond milk to pan, but reserve 1/4 cup for arrowroot slurry. Use a whisk to bring grease up from bottom of pan and mix in. Let simmer.
In a small bowl, add 2 tbs of arrowroot flour and the remaining 1/4 of almond milk. Use whisk to eliminate all clumps. Arrowroot can be replaced with tapioca, though the results will be a little more slimy. Pour slurry into gravy and whisk in.
Let entire mixture simmer for 5-10 minutes on medium high heat.
Reduce to low heat for an additional 10-15 minutes. Add salt and pepper to taste.
If your gravy isn't thick enough, remove 1/4 of liquid from skillet and repeat step 5. I've found arrowroot to be temperamental, especially when working with watery almond milk.
Serve hot over biscuits and Enjoy!