I happen to love egg rolls. Especially cassava flour egg rolls.
And of course any egg roll out there worth having just isn't Paleo and would probably kill my stomach with the amount of additives it contains.
So I embarked on a journey to make a cassava flour egg roll, since cassava is one of my favorite paleo flours. If you've never used cassava before, you are in for a real treat because it is very versatile! Just check out these 10 cassava flour recipes to see what I mean. I fell in love with cassava flour when I first made a cassava flour tortilla that tastes JUST LIKE a wheat flour tortilla.
It blows my mind how great cassava is at replacing wheat flour and providing the same texture. So I thought I'd give cassava flour egg rolls a try since I already knew it could make amazing tortillas.
If you want to try cassava flour, you can hop on over to Otto's Naturals where they even sell it in bulk (trust me, you might need to buy it in the 25 lb bag once you've fallen in love with it like I have). Or you can jump over to Amazon and buy it there. And also here in bulk.
These cassava flour egg rolls are pretty simple to make once you get the hang of it, but there are some definite steps you need to follow to make your life easier. I tried doing one roll at a time and it was so frustrating to go back and forth! So here's the run-down of how this recipe will go:
Make the filling first.
Make all the wraps at once (dough, roll, fry).
Fill wraps one at a time but fry in the same hot skillet.
Easy, right? Good luck!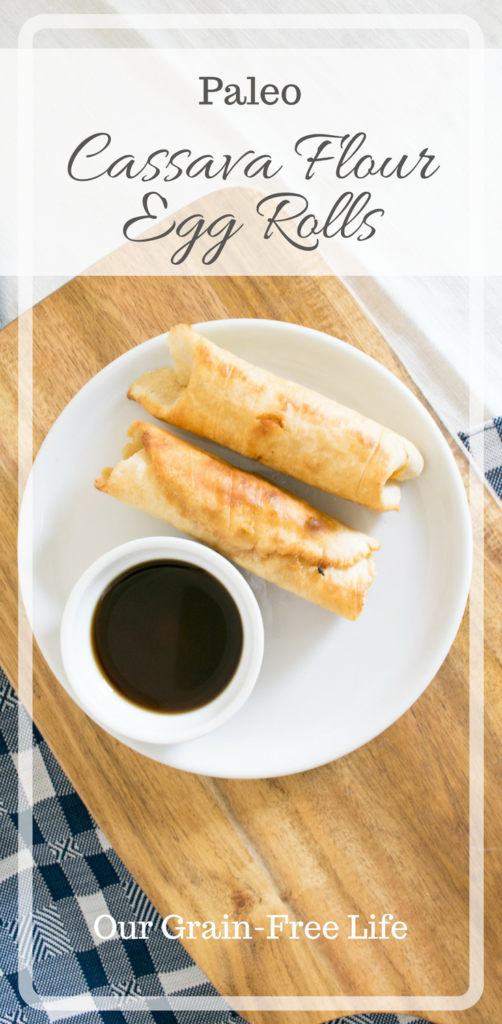 Cassava Flour Egg Rolls — with Pork Filling
Cassava Flour Egg Rolls Wrap Ingredients
Pork Egg Roll Filling
1/4 lb ground pork
1/2 small cabbage, shredded (roughly 2-3 cups)
1 medium carrot, julienned
1/2 medium onion, chopped
1 inch knot of ginger, peeled and minced
1 clove of garlic, minced
Heat a skillet to medium heat, then add a tsp of avocado oil, then placing the ground pork into a skillet on medium heat and cook, stirring occasionally and breaking up the pork into smaller pieces. Once it is no longer pink, add all other ingredients and an additional tablespoon of avocado oil. Sautee on medium for 5-7 minutes, then cover and reduce heat to low while making your egg roll wraps.
In a medium bowl, lightly whisk egg and water until combined. Add cassava flour and salt and stir. Knead dough with hands several times until you have one large ball. Dough should be slightly wet and sticky, not dry and not over wet. Cover the bowl with a lid or plastic wrap to maintain consistency.
Heat a medium skillet with 1 tsp of avocado oil for the tortillas to medium low. (If smoking occurs, turn down the heat!)
Take two equal pieces of parchment paper (I like to cut out an 8×8 square)  and place a small ball of dough in the center (no bigger than 1 inch in diameter–these need to be small!). Roll the ball out like a tortilla inbetween the parchment paper, then carefully remove the top paper and flip the wrap onto your hand and carefully peel off the bottom.**
Place wrap into heated skillet and cook on one side for 1 minute, or until the edges turn up slightly. Remove from heat. Repeat until all of your wraps are cooked on one side.
Add 1-2 tbs of avocado oil to the heated pan.
Take additional egg and whisk lightly. Set aside.
Take a wrap in hand, and add the pork filling to one edge of the wrap (not the middle) and roll in your hand. Remove excess filling from end and push the end down (in the middle) for a closed egg roll. Brush the open egg roll edge with the additional egg to help is seal.
Place egg roll into heated oil with the seal side down. Repeat for all egg roll wraps and use tongs to turn for an even fry (about 1 minute per side, depending on the temperature of your oil). Remove and let cool.
Serve warm with coconut aminos and enjoy!
Troubleshooting
*If your egg is any other size than large you will need to add/reduce water.
**Dough is too dry if it cracks while rolling. Add one tablespoon of water at a time to dough. Dough is too wet if you cannot remove it from the parchment paper with tearing. Add one tablespoon of cassava flour at a time until you have the right consistency.)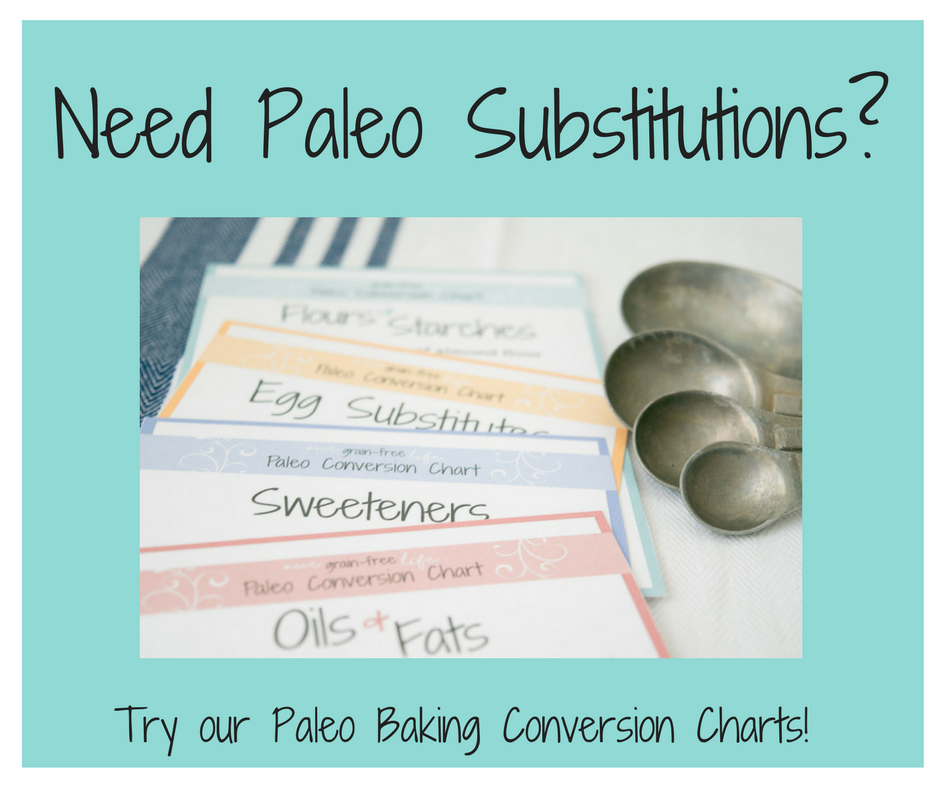 Cassava Flour Egg Rolls (Paleo Egg Rolls)
Author:
Our Grain-Free Life
Prep time:
Cook time:
Total time:
Totally delicious Paleo Egg Rolls that will blow your mind!
Ingredients
Egg Roll Wrap Ingredients
1 cup cassava flour
½ cup water
1 tsp Redmond Real salt
1 large egg* + 1 additional egg for brushing
Avocado Oil
Parchment Paper
Pork Egg Roll Filling
¼ lb ground pork
½ small cabbage, shredded (roughly 2-3 cups)
1 medium carrot, julienned
½ medium onion, chopped
1 inch knot of ginger, peeled and minced
1 clove of garlic, minced
Avocado oil
Instructions
Heat a skillet to medium heat, then add a tsp of avocado oil, then placing the ground pork into a skillet on medium heat and cook, stirring occasionally and breaking up the pork into smaller pieces. Once it is no longer pink, add all other ingredients and an additional tablespoon of avocado oil. Sautee on medium for 5-7 minutes, then cover and reduce heat to low while making your egg roll wraps.
In a medium bowl, lightly whisk egg and water until combined. Add cassava flour and salt and stir. Knead dough with hands several times until you have one large ball. Dough should be slightly wet and sticky, not dry and not over wet. Cover the bowl with a lid or plastic wrap to maintain consistency.
Heat a medium skillet with 1 tsp of avocado oil for the tortillas to medium low. (If smoking occurs, turn down the heat!)
Take two equal pieces of parchment paper (I like to cut out an 8×8 square)  and place a small ball of dough in the center (no bigger than 1 inch in diameter–these need to be small!). Roll the ball out like a tortilla inbetween the parchment paper, then carefully remove the top paper and flip the wrap onto your hand and carefully peel off the bottom.**
Place wrap into heated skillet and cook on one side for 1 minute, or until the edges turn up slightly. Remove from heat. Repeat until all of your wraps are cooked on one side.
Add 1-2 tbs of avocado oil to the heated pan.
Take additional egg and whisk lightly. Set aside.
Take a wrap in hand, and add the pork filling to one edge of the wrap (not the middle) and roll in your hand. Remove excess filling from end and push the end down (in the middle) for a closed egg roll. Brush the open egg roll edge with the additional egg to help is seal.
Place egg roll into heated oil with the seal side down. Repeat for all egg roll wraps and use tongs to turn for an even fry (about 1 minute per side, depending on the temperature of your oil). Remove and let cool.
Serve warm with coconut aminos and enjoy!
Troubleshooting
*If your egg is any other size than large you will need to add/reduce water.
**Dough is too dry if it cracks while rolling. Add one tablespoon of water at a time to dough. Dough is too wet if you cannot remove it from the parchment paper with tearing. Add one tablespoon of cassava flour at a time until you have the right consistency.)