(Note: This post may contain affiliate links. Read more about them here.)
This Southwestern AIP Salmon Salad is about to rock your world.
Why?
It's AIP/Paleo and tastes AMAZING.
I should know because I made sure it tasted amazing. I love making amazing food.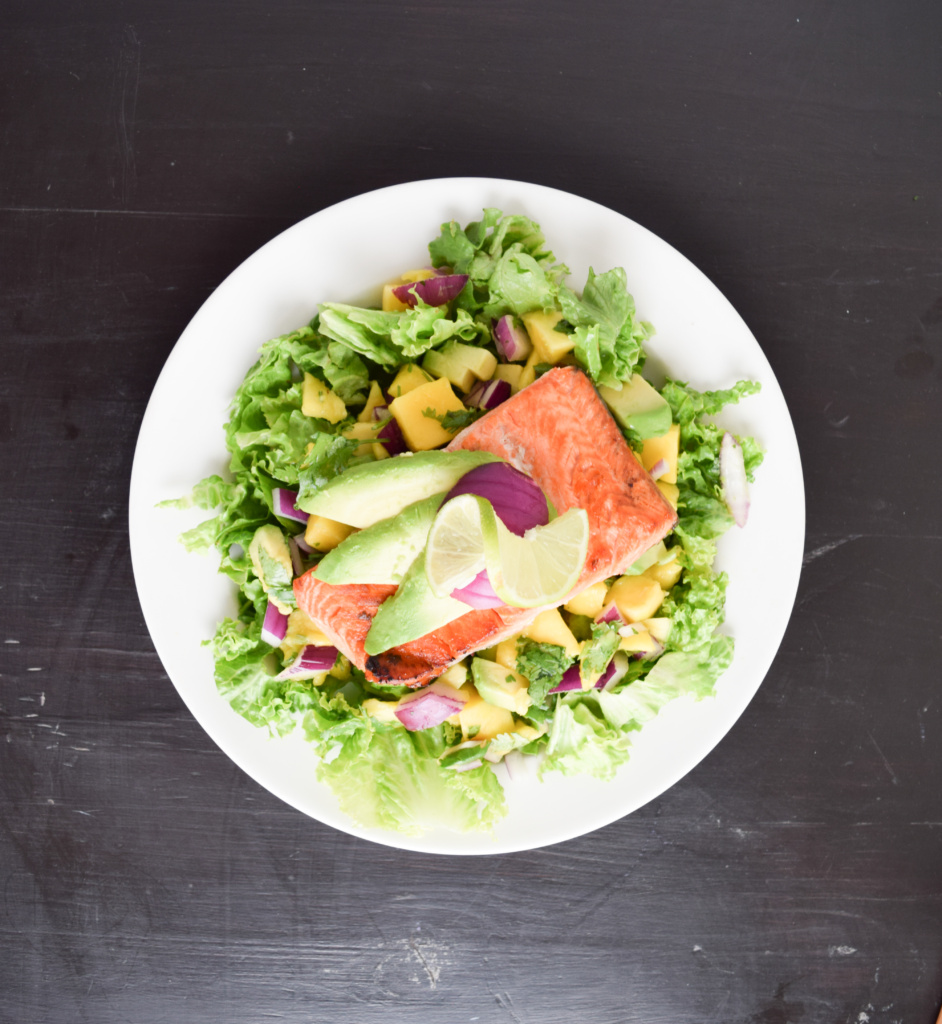 I love cooking. I've loved cooking since I was eight years old and my mom taught me how to make jiffy muffins out of a box. I have loved following recipes, mixing ingredients, and now I'm so inspired to create recipes that my world is filled with cooking. I think about it all day and even dream about my new creations before going to bed. I can't wait to share the goodness that is Paleo cooking with you.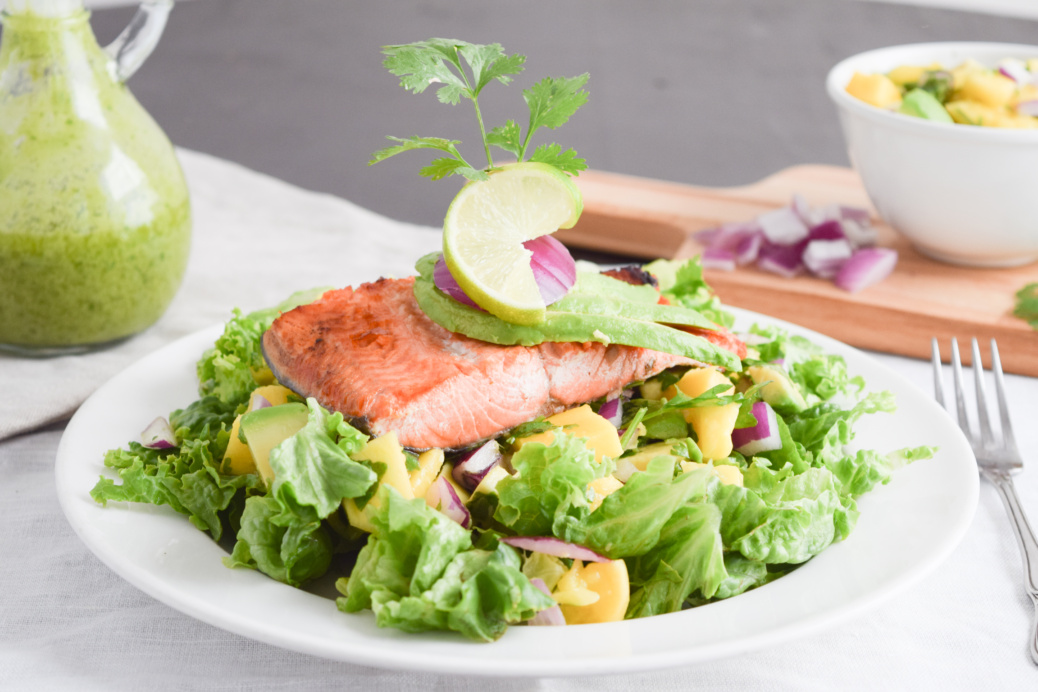 Good food makes me excited and I hope it makes you excited to, despite the fact that you are limiting your food options at the moment! Food gets so boring on elimination diets, but I really just take that as a challenge to make seemingly boring food more exciting. Like this salad. Boring fish and lettuce turned into an unbeatable, gourmet salad worthy of any restaurant. Oh, and did I mention that there's a beautiful mango salsa and cilantro lime vinaigrette to top it off this AIP salmon salad? I love mango salsa. The sweetness level is AMAZING and I can't believe that mangoes are still AIP approved. It feels like cheating.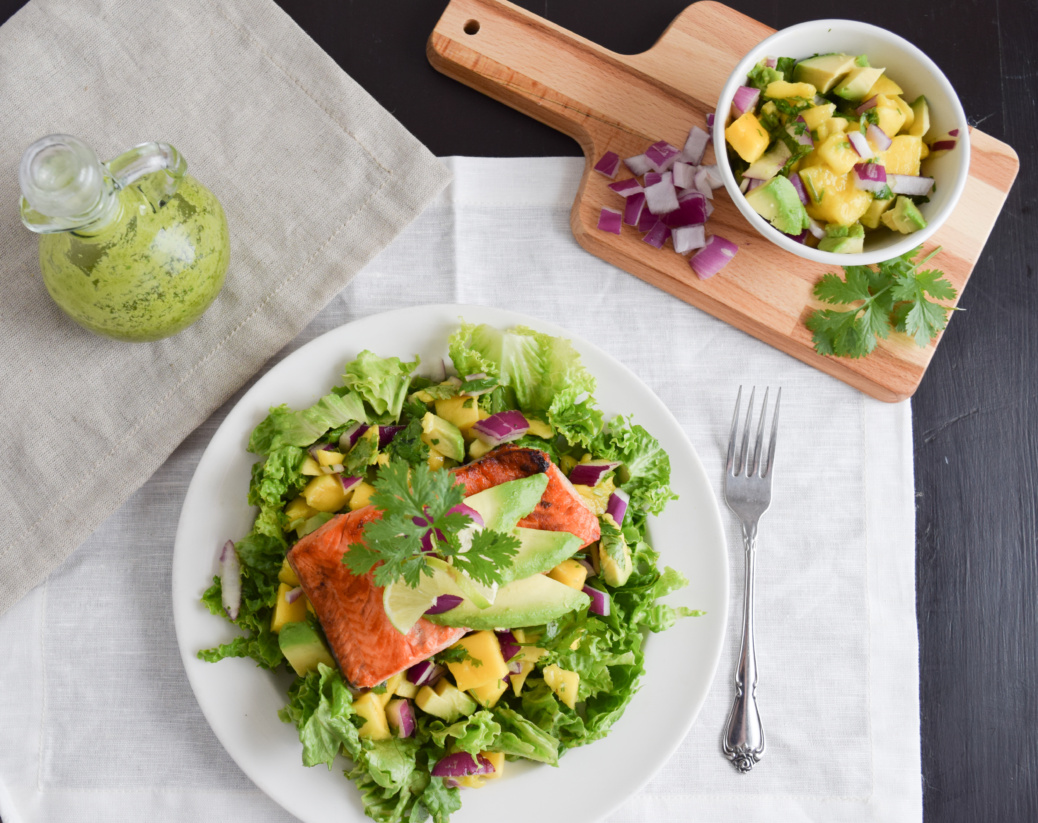 I can't wait for you to try it. This meal is so simple and can be on the table in less than 30 minutes! And from someone who is so busy she can't even see straight, that sounds like an amazing deal. It goes even faster if you have a food processor to shred the lettuce for you!
I personally love my Kitchen Aid food processor and I could not live without it. I make nutbutters, chop veggies for salads, stews, broths, and so much more. It's even helpful for whipping up eggs if you don't have an egg beater.
I would be remiss if I didn't let you know that Amazon is having a MASSIVE SALE on Kitchen Aid 9 cup food processors. Most of them are $100 off and much, much cheaper than when I bought mine. If you click on your favorite color below, you'll see what I'm talking about!
So pull out your ingredients and get going!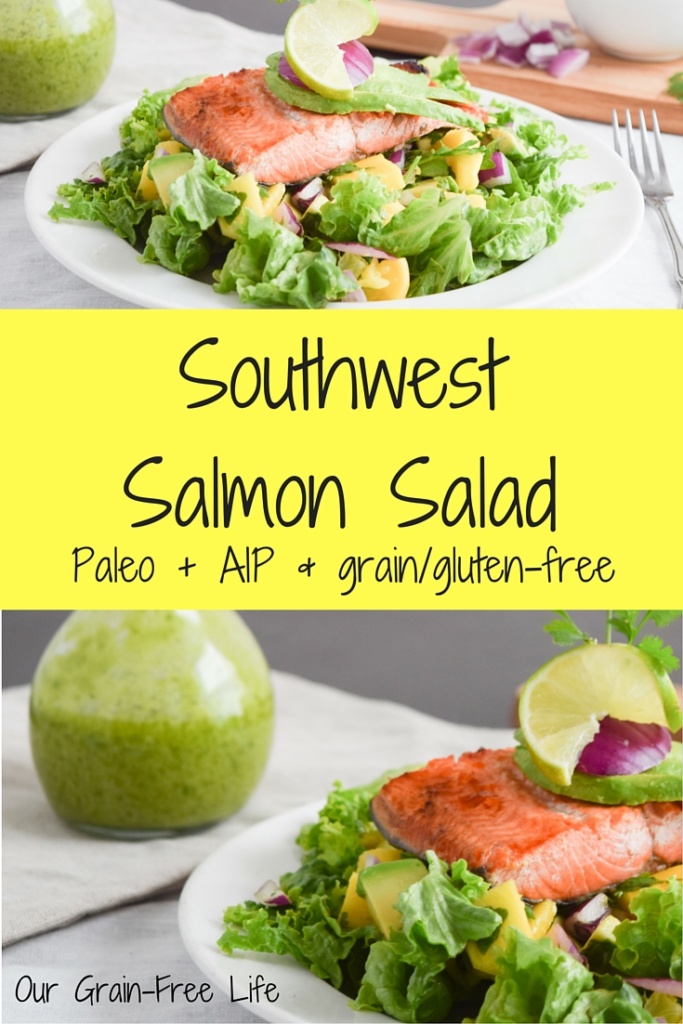 Southwest AIP Salmon Salad
Ingredients
2 4-oz salmon fillets
Juice of 1 lime, squeezed
2 tbs avocado oil
1 head of green lettuce, shredded
Cilantro Lime Vinaigrette Ingredients
4-8 stalks of cilantro (about 1/2 bunch)
6 tbs avocado oil
2 tbs white wine vinegar
3 tbs lime juice
1/2 avocado
Mango Salsa Ingredients
1/2 cup red onion, diced
1 cup mango, diced
4-6 stalks of cilantro
1/2 avocado
Directions
Begin by heating a frying pan or skillet on the stove to medium high heat and adding avocado oil to sear fish. Put fish fillets directly on top of oil skin side up and then carefully add squeezed lime juice. Cover pan with lid and cook for 4-5 minutes then flip and cook on skin side for 6-8 minutes. Then remove from heat and chill in fridge while finishing preparations.
While fish is frying, place all of the ingredients for the vinaigrette into a high power blender (though a food processor would do in a pinch) and blend on low for 30 seconds. Empty into a vinaigrette bottle or jar.
(Make sure you flipped the fish over!)
Dice all of the ingredients for the mango salsa and combine gently in one bowl.
Shred lettuce in a food processor and place on plates.
Layer on mango salsa, followed by the chilled salmon fillets and top with cilantro dressing.
Refrigerate any extra dressing you have and use within 3-4 days.
Enjoy!