(Note: This post may contain affiliate links from companies that pay me to share their products. It's usually a small monetary amount, but it helps me bring you amazing recipes!)
Last week I wrote a little bit about how important cookies are to my family. This AIP Sugar Cookie is the closet thing I have to munch on right now that is even close to my great-grandma's famous sugar cookies. And these little cookies are AMAZING. I can't believe that I'm getting to eat sweets like this. It just shouldn't be allowed.
My great-grandmother passed away before I even came into this world, but I carry a bit of her name with me and I've always felt a special connection to this wonderful woman. I love my family's history, and I couldn't be more proud or feel more like her great-grandaughter.
Even though our worlds are vastly different from each other's.
She grew up in the deserts of Arizona, as her father served a mission on a Native American reservation. She married a young man, and together they started a beautiful, and large family. My grandmother, her only daughter, was outnumbered by 8 male siblings. My great-grandfather passed away in a car accident shortly after their ninth child was born, and she raised her 9 children alone. She was a strong woman, a pioneer in many ways, and a great cook (you would have to be with that many mouths to feed!). Her sugar cookies were the highlight of the Christmas season, and have been a highlight in our family for many Christmases since her passing.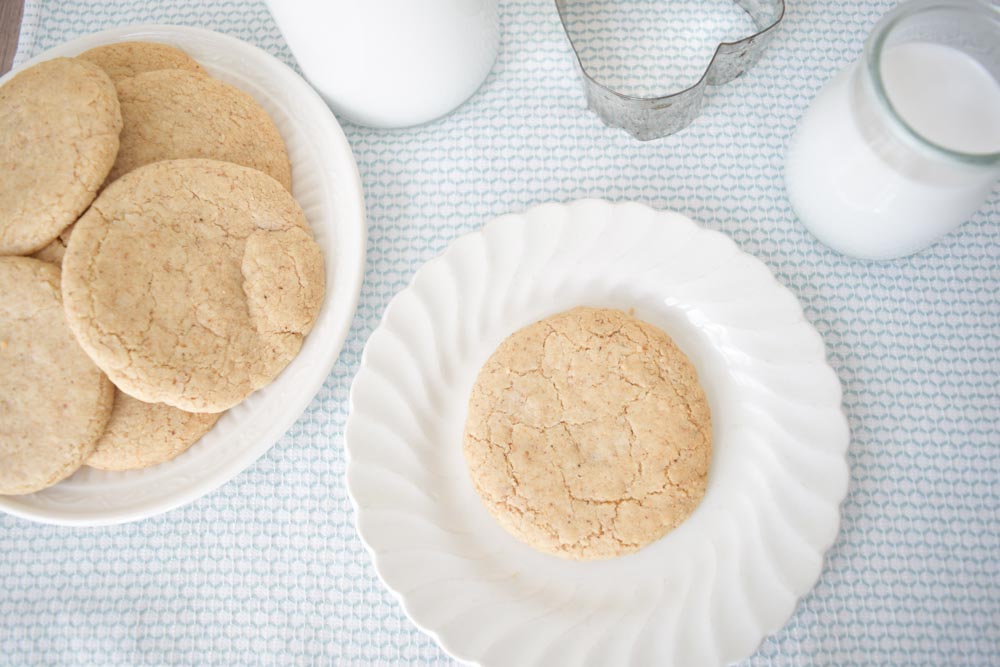 I've used her recipe time and time again to make the most amazing sugar cookies in every shape and size imaginable. My favorite part as a child was decorating them with brilliantly colored frostings and sugar crystals.
But as soon as I started eating Paleo, I haven't eaten a single sugar cookie.
Not one.
Part of me is okay with not eating sweets, but the other part of me wants to keep the traditions alive. And I haven't been able to make a decent sugar cookie that is even close to my great-grandmas.
Until now.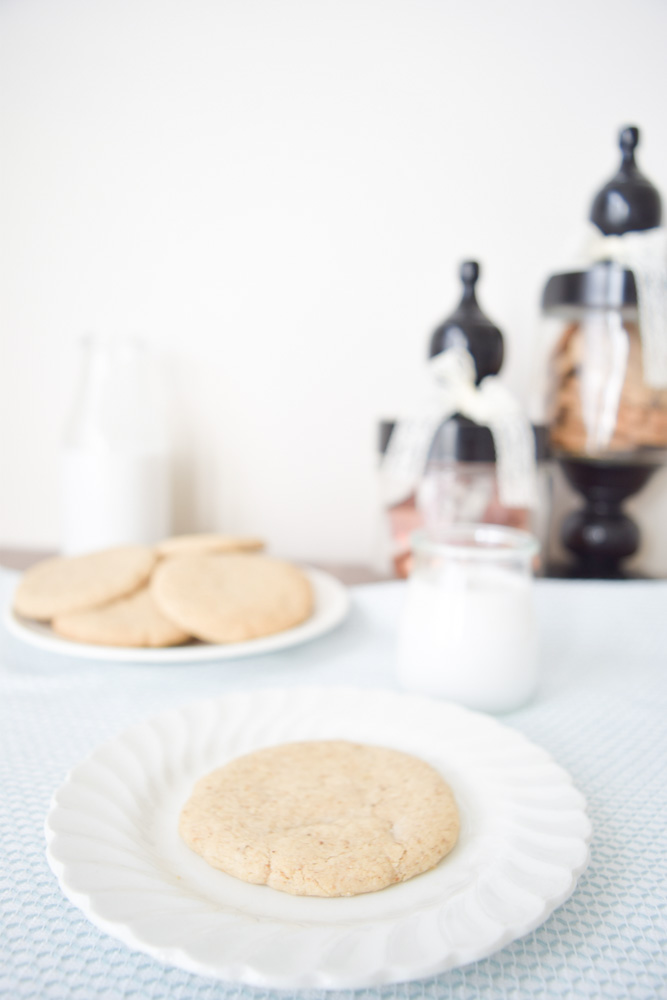 These AIP Sugar Cookies are fantastic. And I'm not biased at all! I love the sweetness that Tigernut flour brings to this recipe, and combined with the sweet maple syrup and creamy coconut butter, they make a solid cookie that hardens just enough after cooling to frost.
Don't forget to order your Tigernut Flour below so you can enjoy these amazing AIP Sugar Cookies!

AIP Sugar Cookies

Ingredients:
Parchment paper, baking sheet/stone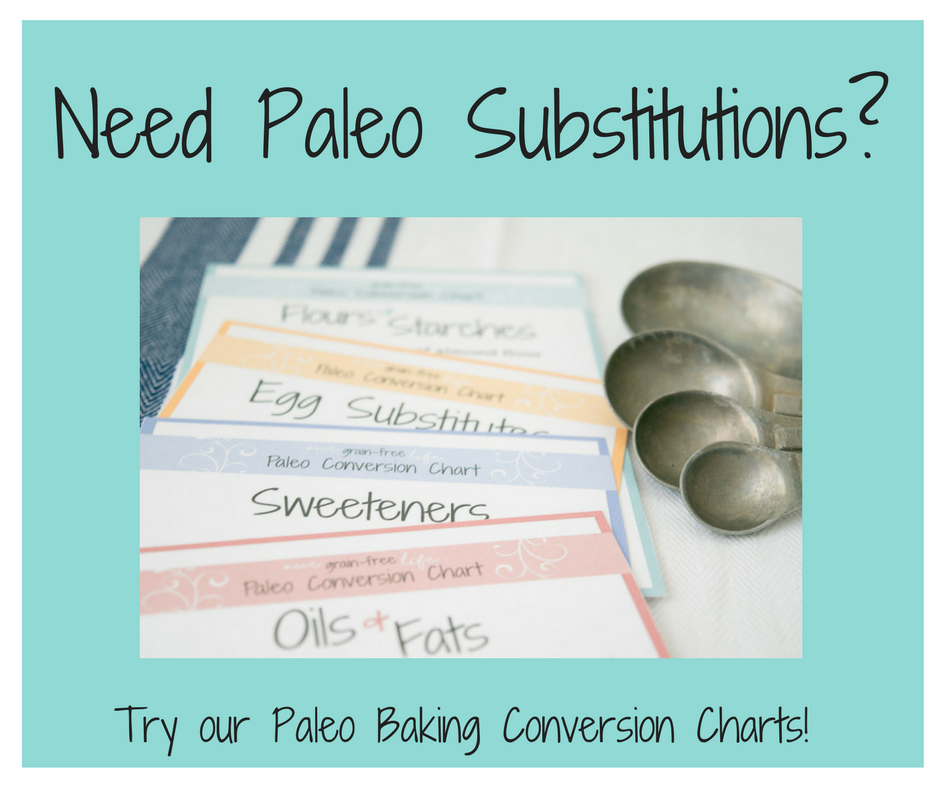 Instructions:
Preheat the oven to 350 degrees Fahrenheit and place a piece of parchment paper
Combine all dry ingredients in a large mixing bowl with a whisk to eliminate clumps from tigernut flour.
Combine all wet ingredients in a large bowl using a hand mixer on low for less than a minute.
Slowly add dry ingredients to wet ingredients and mix with a fork. Dough will be moldable and you can continue mixing with your hands until totally combined.
Option #1: Form cookie dough into a large ball, and using a rolling pin, roll out between to sheets of parchment. Cut out cookies with a cookie cutter or a glass cup.
Option #2: Roll cookie dough into small balls the size of your palm. Flatten on top of pre-lined baking sheet or stone.
Option #3: Use a melon ball scoop or small ice cream scoop and scoop out dough onto pan. Flatten with hand.
After you have filled the pan with raw cookies, place in oven for 7-10 minutes.
After the time is up, transfer parchment paper (with cookies on top) from the pan to a cooling rack  immediately.
Let cool for 15 minutes to two hours before serving (Note: The cookies will CRUMBLE badly unless allowed to cool.)
AIP Sugar Cookies
Author:
Our Grain-Free Life
Ingredients
¾ cup tigernut flour
¾ cup arrowroot
1 tbs gelatin
½ tsp salt
½ tsp baking soda
⅓ cup maple syrup
⅓ cup coconut oil
⅓ cup coconut butter
2 tsp vanilla extract
Parchment paper, baking sheet/stone
Instructions
Preheat the oven to 350 degrees Fahrenheit and place a piece of parchment paper
Combine all dry ingredients in a large mixing bowl with a whisk to eliminate clumps from tigernut flour.
Combine all wet ingredients in a large bowl using a hand mixer on low for less than a minute.
Slowly add dry ingredients to wet ingredients and mix with a fork. Dough will be moldable and you can continue mixing with your hands until totally combined. Add raisins and fold in.
Option #1: Form cookie dough into a large ball, and using a rolling pin, roll out between to sheets of parchment. Cut out cookies with a cookie cutter or a glass cup.
Option #2: Roll cookie dough into small balls the size of your palm. Flatten on top of pre-lined baking sheet or stone.
Option #3: Use a melon ball scoop or small ice cream scoop and scoop out dough onto pan. Flatten with hand.
After you have filled the pan with raw cookies, place in oven for 7-10 minutes.
After the time is up, transfer parchment paper (with cookies on top) from the pan to a cooling rack immediately.
Let cool for 15 minutes to two hours before serving (Note: The cookies will CRUMBLE badly unless allowed to cool.)