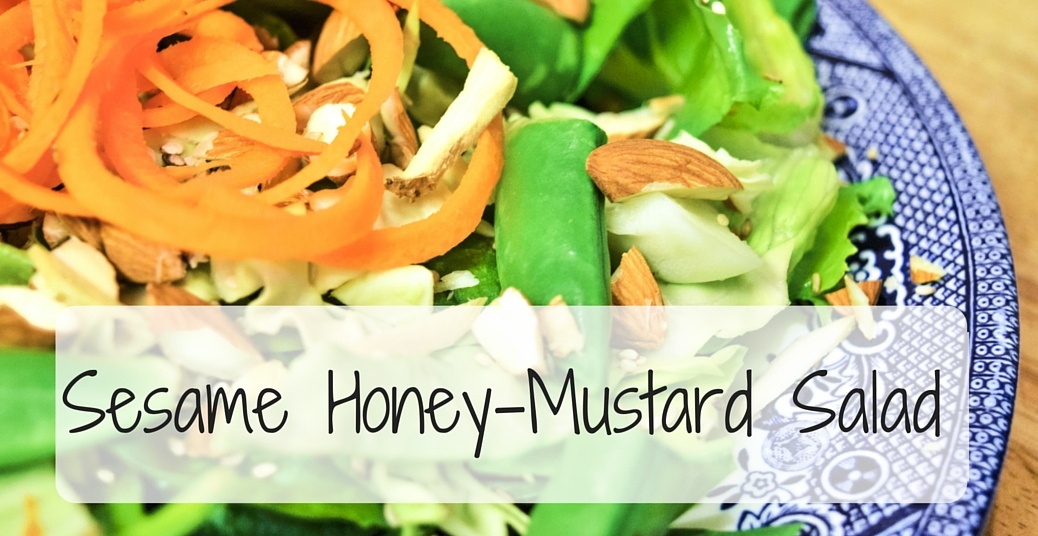 Time for another raw food post! Our Sesame Honey-mustard salad just got a makeover and we are loving it. Raw almonds, sesame seeds, sugar snap peas, and organic spiralized carrots (check out
this post
to see our new
Zentai Spiralizer
). So tasty, and so healthy.
We celebrated Thanksgiving Day with my husband's family and, since we were waiting to have the traditional turkey meal on Sunday to accommodate everyone's schedules, we ate Chinese food instead. Not take-out; the chefs in my husband's family would have thrown a fit. We had homemade beef and broccoli, fried rice, and coconut shrimp (might I add that it was totally paleo!).
Needless to say, we decided to bring this salad.
Get this: my husband invented his own recipe for the honey-mustard dressing. And he's not proud of it at all. It's actually really cute how proud he gets when he creates something and I put it on my blog. He'll scroll through and mess up my statistics just to point out which recipes he's contributed to and then show those to his friends or family when we are out and about.
I think that by posting this dressing recipe that I'm enabling the crazy things he does to food. I'm validating that it's okay to put fry sauce on your salad or put veganaise into his chili…or on his salad…or on his pizza. Just between you and me, my husband does some crazy things to food. Really crazy.  I can't even count the amount of times I've looked over at him during dinner, only to see him putting mustard on something that mustard shouldn't be on. And, as someone with more refined taste, I can't help but say: "What the HECK are you doing?"
And just between you and me, I really think that he enjoys teasing me about it. Which is fine. But it almost gives me a heart attack every. single. time.
BUT. And here's the secret that I don't think I'll ever tell him: Sometimes he scores with his food experimentation. Like really scores. This honey-mustard dressing is proof that he can create some amazing, clean, and simplistic recipes. And as much as I tease him, I do really appreciate his out-of-the-box thinking when it comes to salad dressings, because this dressing is…this is divine.
I can't believe I ever doubted him.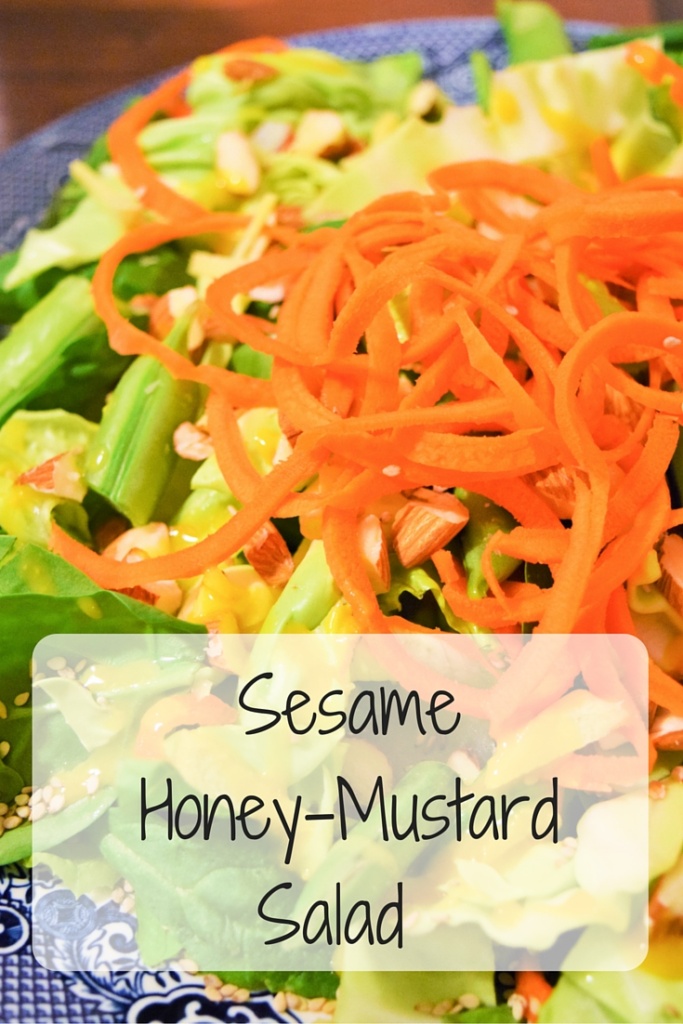 Sesame Honey-Mustard Salad
Salad Ingredients
1 head of romaine chopped
2 handfuls of organic spinach
1/4 head of cabbage, shredded
1/2 organic red bell pepper, sliced (not pictured)
1 large organic carrot, spiralized
1 small knot raw ginger, sliced into slivers
1/4 cup chopped raw almonds
2 tbs raw sesame seeds
Honey Mustard Dressing Ingredients
2 tbs raw honey (Vegans: substitute agave if you don't eat honey)
3 tbs organic mustard
1 tbs water
Instructions
Cut the lettuce, shred the cabbage, sliver the ginger, spiralize the carrot, chop the almonds, and slice the bell pepper. Set aside to arrange separately on plates, or toss in a medium bowl for serving.
Make the honey mustard sauce. Our honey is a bit stiff, so we used a hand mixer to make it.
Arrange lettuce and other vegetables on salad (or toss). Sprinkle almonds and sesame seeds over salad. When chicken is cooled, top the salad with chicken, and pour the dressing on!