(Note: This post may contain affiliate links. Read more about them here.)
Eating a no-grain diet has been difficult (not just in the cooking aspects) but because I miss the foods I used to eat, however bad they were for my mental and physical health. It's not that I ate horribly (most of my childhood meals were made-from-scratch mama's cooking), but I know that I didn't make the best decisions as a teenager or a young adult. I started this blog with the intention to create foods I loved that mimicked the grain-filled foods of my youth but are clean, free from chemicals, preservatives, and are home cooked. These good foods fill my body with nutrition and offer clarity of thought.
And I've been so happy with the results of the recipes. Paleo-esque eating has taken time to get used to (I took 9 months to transition), but my taste buds have reset to accept the new flavors and even trick me into thinking that they are not any different.
That's why I decided to try making these Paleo Sausage Egg Biscuits. It was time.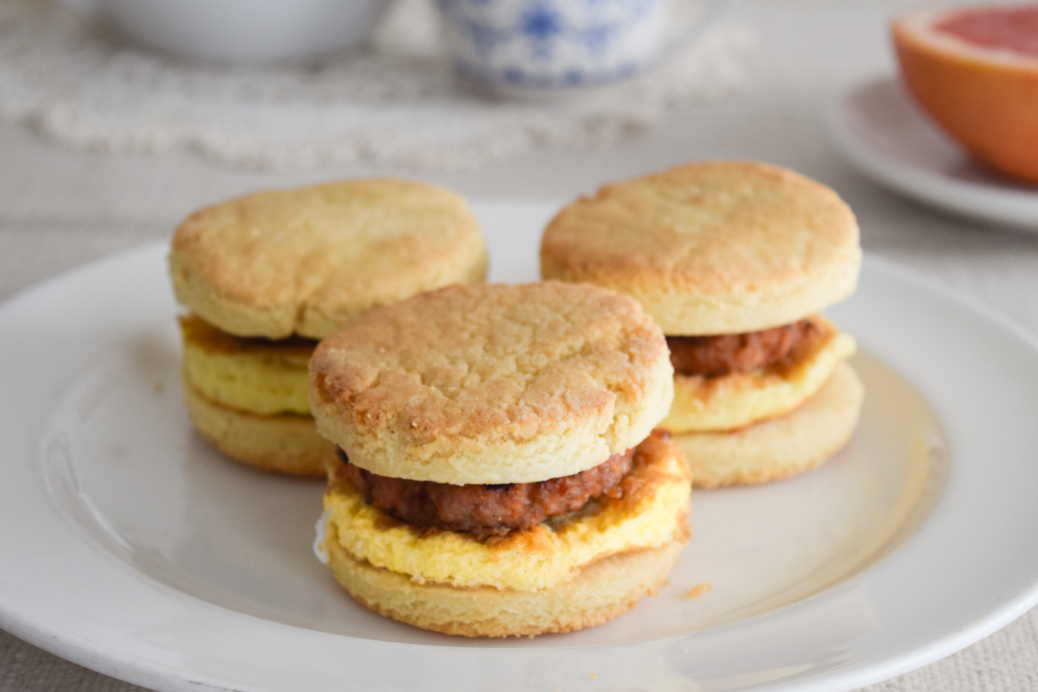 Do you remember the fluffy texture of the breakfast biscuits at McDonald's? Melt-in-your-mouth buttery biscuits that blended so perfectly with peppery sausage and a fried egg. I'm starting to drool just thinking about it.
I don't want to go into detail about exactly what makes McDonald's so bad for your health (calories, preservatives, processed foods, fat content…) but I will say that these Paleo Sausage Egg Biscuits are going to rock your world because they taste SO much better and they are way better for your health (just please watch the calories on these lovelies because they are made with almond flour).
You get a biscuit and you get to eat it too.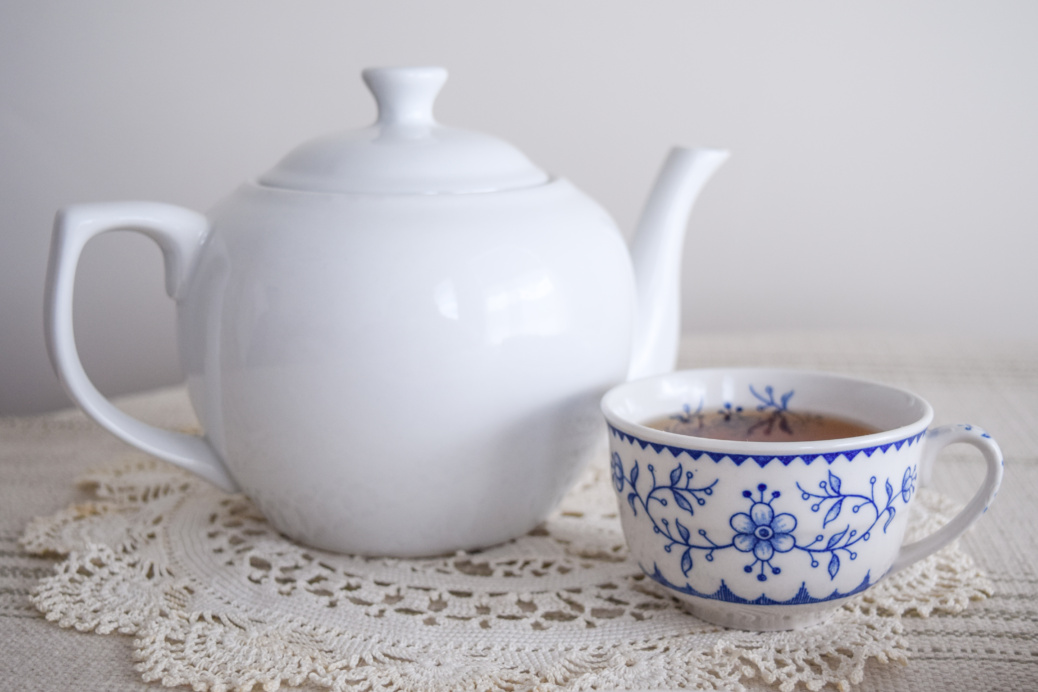 For this recipe, I used a biscuit recipe I created a looong time ago with olive oil. Those are Paleo approved. However, I did create a new recipe with butter instead of olive oil and it is amazing (but you know, not Paleo). Check both of those recipes out before proceeding!
Butter Biscuits       Olive Oil Biscuits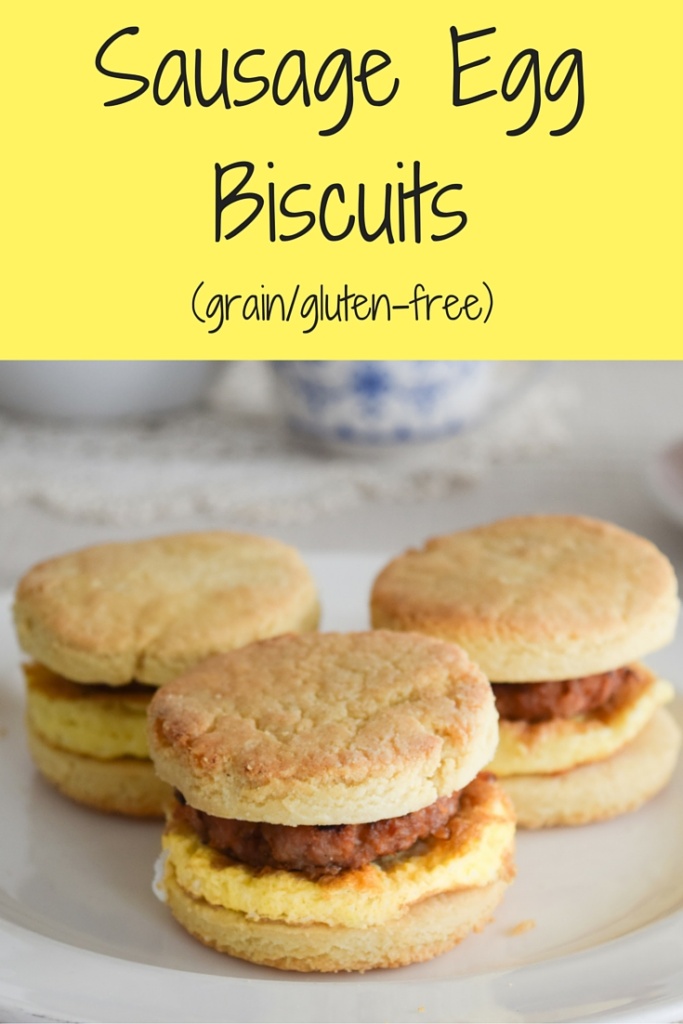 Sausage Egg Biscuits
Ingredients
2 Frying Pans
Takes , serves two people.
Heat the frying pans to medium high heat.
Shape raw sausage in your hand to create thin circles or roll out with a rolling pin and score with a glass or cookie cutter larger than your biscuits.
Add oil to frying pan, then place patties directly into pan.
Flip patties when they begin to brown and let the other side cook until browned.
When both sides are browned, remove patties from pan onto a plate lined with paper towels to catch grease.
Egg Instructions
Whisk eggs, add oil to the second pan, and pour in like an omelette.
When the bottom has cooked through, flip the omelette-style eggs to cook on the other side.
Remove from heat and place onto a plate.
Score the eggs with a drinking glass that measures the size of the biscuits for the best look.
Biscuit Sandwich Instructions
Take two biscuits and lie one flat on the plate.
Stack egg, then sausage, followed by the remaining biscuit
There you have it! Fantastic, yummy, buttery biscuits! Add some Paleo ketchup and you are good to go.
Sausage Egg Biscuits
Author:
Our Grain-Free Life
Ingredients
4 Paleo Butter Biscuits (OR Olive Oil Biscuits)
2 eggs
¼ lb Spicy Sausage (or mild, if you can't take the heat)
1 tbs Avocado Oil or Spray Oil (to grease pan)
2 Frying Pans
Instructions
Heat the frying pans to medium high heat.
Shape raw sausage in your hand to create thin circles or roll out with a rolling pin and score with a glass or cookie cutter larger than your biscuits.
Add oil to frying pan, then place patties directly into pan.
Flip patties when they begin to brown and let the other side cook until browned.
When both sides are browned, remove patties from pan onto a plate lined with paper towels to catch grease.
Egg Instructions
Whisk eggs, add oil to the second pan, and pour in like an omelette.
When the bottom has cooked through, flip the omelette-style eggs to cook on the other side.
Remove from heat and place onto a plate.
Score the eggs with a drinking glass that measures the size of the biscuits for the best look.
Biscuit Sandwich Instructions
Take two biscuits and lie one flat on the plate.
Stack egg, then sausage, followed by the remaining biscuit