(This post contains affiliate links that may compensate me for sharing links or endorsements.)
Summer is right around the corner, but days here have been cold and rainy, calling for some good, warm, chickpea curries (like my super-easy-to-make tasty Chickpea Tomato Curry which you can also put in the crockpot).
But anticipating the summer season is getting me psyched for trips to one of my favorite summer vacation spots in the world: Park City, Utah, home to the ultimate and most expensive skiing resorts this side of Colorado. Also, Sundance Film Festival.
My husband and I first went to Park City for our honeymoon (and subsequent anniversaries) because for some strange reason, the classiest hotels give their best deals in the summer time. Which is fantastic. There's still so many fun things to do there in the summertime (the ski lifts are still open; the alpine slide aka roller coaster; hiking, biking, camping, running, birding; the list goes on), not to mention that the temperature up there is a good ten to fifteen degrees cooler than the desert valleys.
Which is a good enough reason to head to the hills.
In fact, we are going to stay at the Hyatt Resort Lodge (the fanciest hotel I've ever been in) this summer for our anniversary for almost FREE (and you can help us make it totally free!).
"How?" you ask.
Shop Kick. (Shameless plug, but keep reading because it is worth your time.)
Shop Kick is an app that gives you points just for scanning items in stores like Target, Wal-mart, Macy's, American Eagle, Sports Authority, Smith's, Albertsons, etc. Adam and I love "shopkicking." We go into many of these stores anyways, or we walk the indoor malls in the winter for exercise, so it's easy to accrue points. Plus, it's kind of like a scavenger hunt. Finding new products in places of the store that I don't usually go is somewhat exhilarating. And if you don't like scanning products, you can even get points back for money spent (link your card) or for scanning a copy of your receipt if you purchased a certain item.
It has taken us a little while to get enough points to redeem for gift cards (Target, Wal-mart, The Cheescake Factory, Fandango, Shutterfly, the Hyatt Hotel etc) but it's worth the wait. I'm shopping anyways, so taking ten more minutes out of my day to go make some free money for my anniversary is not a big deal.
Did I mention that you don't even have to get out of your car for points?
That's right. There's check-in points. Walk in the door, open the app, and you get points. Or drive by and hold your phone out of the window next to the entrance like an idiot and get points. Either way. (The latter is our favorite way of accruing points.) You're already walking into the store, so why not pay yourself?
If you'd like to help us out, go to this link, download the app, sign up, and walk into the store. You are one step closer to getting gift cards to anywhere from Target to Starbucks, or the Hyatt. Invite your friends, and you get even more points. (Shameless plug over.)
Back to Park City.
Even if you're not big on summer activities, the cuisine in Park City presents a lovely diversion. I'm especially fond of this delightful Indo-Persian cuisine restaurant in Park City called Good Karma that has the best authentic curry you will ever eat. The dishes are saturated in layers and layers of flavor with perfect texture and proportions. The chef has designed the dished to be mostly grain/gluten/dairy-free, much to my surprise and complete satisfaction. He even offers several amazing vegan options as well.   When we go, we typically get the Chicken Curry and the Daal (Lentils). We have gone there for breakfast before and ate the Curry Eggs with Daal. I really can't say enough about this place.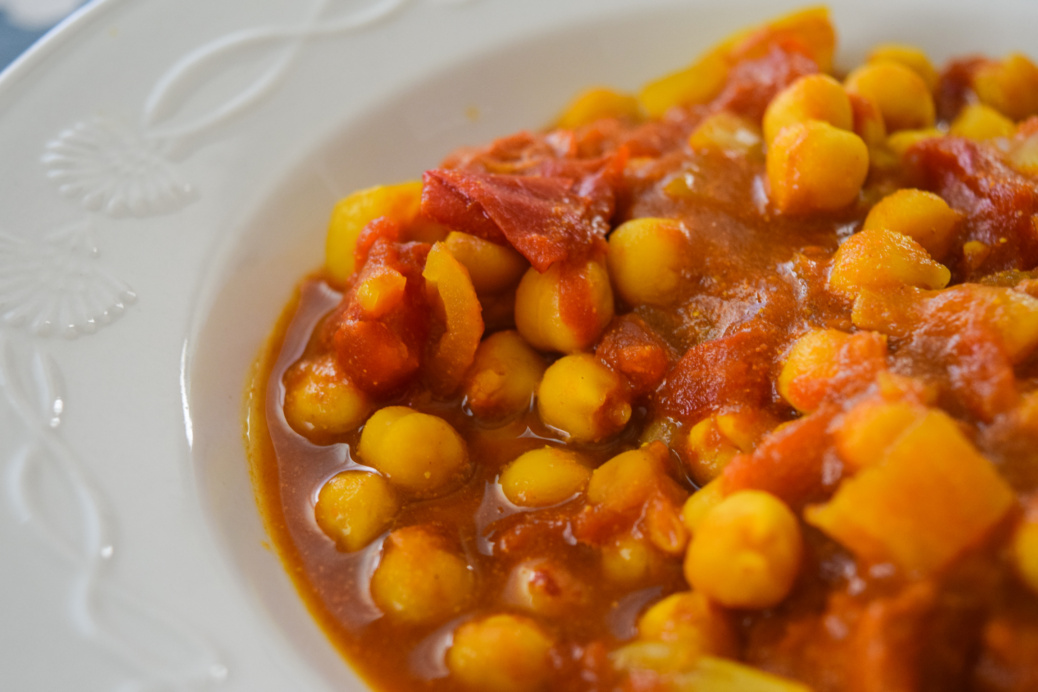 I love all things curry. Indian and Thai foods have been staples for me (mostly because they offer great grain/gluten/dairy-free options). But a couple summers ago I found out that a lot of Thai food places cook with MSG (not good, so I started dabbling in curry recipes to try to get the same flavors. I'm not there yet (and I don't claim to be authentic at all), but I have found some great substitutes, like this grain-free Chickpea Tomato Curry that warms my soul whenever I eat it.
It does leave me wanting to go to Park City, soon though, so I can eat real curry.

Chickpea Tomato Curry
3 cups cooked Chickpeas
3 cups organic Vegetable Broth
1 cup organic Tomato Sauce
2 cups of Water
4-6 medium organic Tomatoes
1/2 Onion
4 organic Button Mushrooms
2-3 tbs Curry Powder (depending on taste)
1 pinch Cayenne Pepper
Salt (to taste)
Takes , serves four people.
Place a medium-sized pot on the stovetop and set at medium high heat.
Add vegetable broth, water, and whisk in curry powder and cayenne pepper until there are no clumps.
Chop tomatoes, onion, and mushrooms and add to pot.
Bring to a boil then turn down the heat to medium for approximately 15 minutes then promptly remove from heat.
Serve in bowls after allowing to cool for 5-10 minutes.
Enjoy!