(Note: This post may contain affiliate links. Read more about them here.)
Have I talked about how difficult breakfast is on AIP? I miss my go-to eggs. But I'm surviving on the mentality that ANYTHING can be breakfast. I haven't made it to eating a salad yet, but that's actually not a bad idea.
Don't get me wrong, bacon and sausage are great and all. But I don't have to eat them for breakfast everyday. I can enjoy a warm bowl of stew just as well.
I'm on a stew and soup kick with the AIP elimination because A) Bone Broth is delicious and good for you, B) I'm really good at making new soups and stews, C) I'm not really sure what else to eat, and D) The weather has been really funky lately, with highs one day in the 90's and the next day in the 60's. Perfect soup weather. And perfect for a nice, warm breakfast that is fast and easy. Especially easy.
Before I even dreamed of AIP or a complete Paleo diet, my sister-in-law taught me how to debone a turkey for Thanksgiving, and then make turkey gravy from the bones of a turkey. I'll never cook a full bird in the oven for 7 hours again! Cutting the meat off the bones and then cooking it resulted in evenly cooked meat, and gave me the opportunity to boil down the bones into broth, which I then used for gravy.
It's not easy to wrestle 25 lbs of meat. That's the only down side. But it does make for an amazing Thanksgiving dinner!
When I started eating Paleo, I knew exactly what bone broth was, and how long it takes to make. The good news is that it doesn't need much attention, and setting it on a low simmer means you can forget about.
Literally. I mean, forget about it for a few days. Go ahead. It's that easy. It doesn't matter if it "overcooks." You'll still have great bone broth.
If you're not a fan of de-boning anything, your local grocer or specialty butcher's may sell soup bones! Just ask around. I've bought soup bones at Whole Foods before, so I know they are there.
Also, are you a fan of rotisserie chicken? These are my favorite soup bones! I usually pick up an organic rotisserie chicken from Whole Foods on weeks that I'm too busy to cook, and we use it for several meals. Then, I throw the bones into a pot with a few veggies and let it boil for a 20 minutes, then bring it to a simmer.
And simmer.
For hours.
But it's worth it. The broth has a wonderful taste to it (I always add veggies!) and works great as a base for so many recipes. Like this one!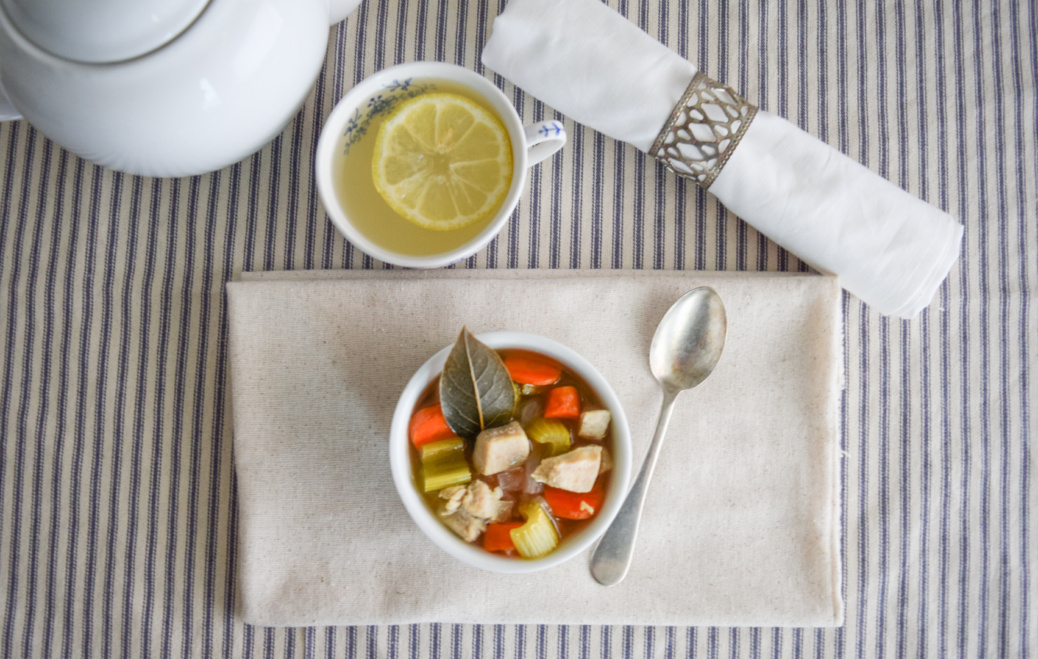 Chicken Bone Broth Stew
Ingredients (single serving)
2 cups of chicken bone broth
1 chicken breast
1 large carrot
1/2 cup of yellow onion
2 stalks of celery
1 bay leaf
Instructions

Place a small sauce pot on the stove and turn it to medium high heat. Add chicken bone broth.
Cube chicken meat and place in pot.
Slice all vegetables and add to pot.
Let boil for approximately 10-15 minutes, or until chicken has cooked through and carrots are softened.
Remove from heat and serve hot.
Enjoy!